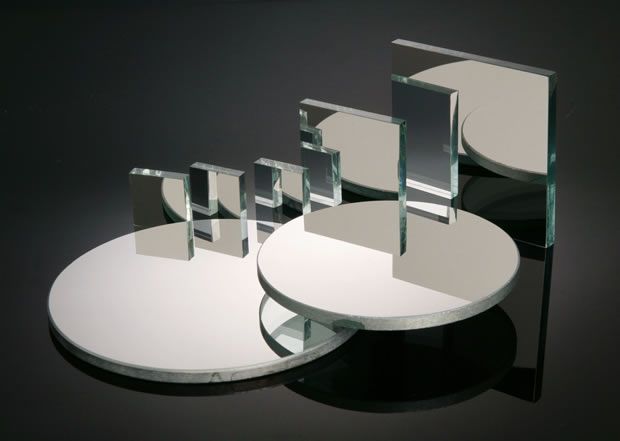 Optical Mirrors are designed to reflect light for a variety of applications, including beam steering, interferometry, imaging, or illumination. Optical Mirrors are used in a wide range of industries, such as life sciences, astronomy, metrology, semiconductor, or solar.
DG Optics offers a range of laser, flat, metal substrate, focusing, or specialty Optical Mirrors in a multitude of reflective coating options, including Protected Aluminum, Enhanced Aluminum, Protected Silver, Protected Gold, or Dielectric. Choosing the proper reflective coating option ensures high reflectivity of the needed wavelength or wavelength range. Optical Mirrors designed for laser applications are optimized for the given laser wavelength. Additionally, Optical Mirrors designed for lasers feature damage thresholds that are suitable for the designated laser. Metal substrate Optical Mirrors are ideal for applications requiring a constant coefficient of thermal expansion between the Optical Mirror and the mount. Optical Mirrors with a concave surface are ideal for light focusing applications.
DG's optical mirrors are available for use with light in the UV, VIS, and IR spectral regions. Optical mirrors with a metallic coating have high reflectivity over the widest spectral region, whereas mirrors with a broadband dielectric coating have a narrower spectral range of operation; the average reflectivity throughout the specified region is greater than 99%. Hot, cold, backside polished, ultrafast, D-shaped, elliptical, parabolic, concave, crystalline, and laser line dielectric-coated optical mirrors are available for more specialized applications.
Our flat optical mirrors offer a full range of solutions for reflecting light to optimize performance in the UV-VIS-NIR spectral regions. Advanced Optics precision polished flat optical mirrors are available in stock or can be fully customized to meet your unique requirements. We offer plane-parallel, wedged, or spherical optical mirrors manufactured from a wide variety of substrates polished in almost any configuration. All of our optical mirrors may be purchased uncoated or with a variety of metallic coatings, highly durable dielectric coatings, or as partially reflective mirrors.